Energy is our source of Life and Development !
As an advanced electronic designer, ALCYM offers solutions and services dedicated to green or renewable energies and energy saving.
The beneficences of these technologies and new energetic approach are pretty honourable :
+ Environmental : preservation of our environment and respect of our planet.
+ Comfortable : less pollution, more pleasant, user-friendly.
+ Intelligence : smart and innovative design, electronic and software control.

RENEWABLE ENERGY CONTROL = OUR HYBRID (WIND & PV) INVERTER

The goal here is to optimize and facilitate harnessing of renewable energies (typically sun, wind or hydraulic currents) with distinctive products and customized developments.
At the beginning, our challenge is the design of a specific inverter dedicated to small wind turbines (2000W).
Further, our idea is to promote the mixing of renewable sources, taking advantage of the synergies and natural correlations between wind and solar (both sources are attractive and for remind, wind could be present 24h a day whereas solar is limited to shinning period).
The eccentricity of our concept is the opportunity to combine wind and solar sources in a single product.
Finally, the famous product is an Hybrid Grid-Tie Inverter
offering 2 independent channels for free combination of 2 different sources, for instance wind turbine or photovoltaic panel. The total power of 3,4kW is normally equally shared between the 2 inputs but sum from a single source is also possible.
The goal of our product is dual :
> Electricity Production in grid-tie configuration, according to a payback contract.
> Fulfill Domestic Electricity Consumption : Household Appliance, Hot Water, Heater, Battery Charging (on EV or Plug-in Hybrid Vehicules).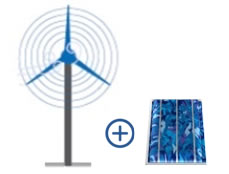 | | | | |
| --- | --- | --- | --- |
| INPUT > OUTPUT | INPUT 1 | INPUT 2 | OUTPUT |
| Max Power | - | - | 3400 W |
| Max Current (DC/RMS) | 8,5 A | 8,5 A | 15 Arms |
| Voltage (DC/RMS) | 80-400 Vdc | 80-400 Vdc | 230 Vac, 50 Hz |
| Efficiency | MPPT | MPPT | >95% |
LED LIGHTING = OUR CONTROLLERS
The goal is here to promote LED lighting, renowned as more economic (consumption), more reliable and more intelligent in the meantime (colors combination, driving modes, communication), with appropriate products and customized developments.
For instance, our available products are Electronic Drivers dedicated to high power LED Control (standard output power range from 50W up to 140W) and including several advantages :
>> Reliability : LED technology, current control.
>> Efficiency : power factor up to 97%, conversion efficiency 87%, life time > 50'000h.
>> Security : galvanic insulation, low output voltage, CE marking.
>> Intelligence : Dimming 10-100% (intensity modulation), extra functions on request.
There are plenty of light models (Spots Lights, FloodLights, DownLights, Panels, Multicolor Lights) and plenty of applications like: Urban Lighting (street, area, architecture, signage), Industrial Lighting (building, office), Grow Lighting (vegetables),
Scene Lighting (stage, studio), Healthcare Lighting (surgery, light therapy).
| | | | |
| --- | --- | --- | --- |
| SPECIFICATIONS | D11.50.1 | D11.80.1 | D11.140.4 |
| Max Power OUT | 50 W | 80 W | 140 W |
| Ouput Channels (CH) | 1x CH | 1x CH | 4x CH |
| Nominal Current OUT (DC) | 2,1 A | 2,8 A | 350 mA/CH |
| Max Voltage OUT (DC) | 42 Vdc | 42 Vdc | 120 Vdc |
| Supply Voltage IN | 230 Vac / 50-60Hz | 230 Vac / 50-60Hz | 85-277 Vac / 50-60Hz |
ENERGY SAVINGS
Supporting ongoing searches for new concepts and solutions dedicated to energy saving or recovering, ALCYM will be pleased to conduct your product development and visualize your ideas, based on its strong expertise and engineering services.
As an evidence, our participation to the development of a linear electric generator, whose aim is the recovering of thermal energy according to Ericsson engine principle (derived from Stirling one) in the frame of a community project driven by Ademe.
POWER MANAGEMENT

Our skills in Power Management, proven in the development of our own products, are obviously substantially available to serve other of your applications.
In concrete terms, it deals with precautions coming from good practices or applicable standards (CEI, CEM) and typically relevant to component selection and integration, layout (PCB), electrical insulation or electro-magnetic immunity.